CAMBODIA
From An Email Home

: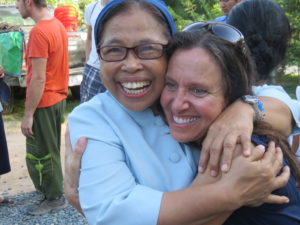 We've been on a service trip in Takeo, Cambodia for three weeks now and are in full swing, sweating basically ALL the time! It has been suggested that the larger the entity you serve, the more energy you will receive to do what's needed. Seeing the poor living conditions of the locals and their impoverished medical facilities has allowed us all (21 people) to feel the importance of long work hours in the punishing heat. We are involved with several Sisters from the Daughters of Charity who appear to have BOUNDLESS energy! Interesting food for thought…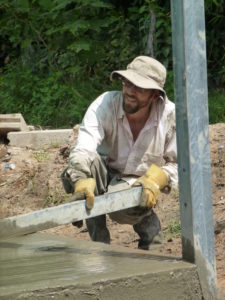 We are building a four-room "recovery" building for women who give birth at the local clinic (approximately 30 every month!) to have a place to rest after their delivery. While I was there yesterday, a women had just had a baby. She could barely stand up, was still bleeding, but very soon got on her husband's motorcycle with him, the newborn, and a second little girl and headed to their home an hour away. The Sisters say this happens daily. It was painful to watch, and I got to witness firsthand why the building is so needed.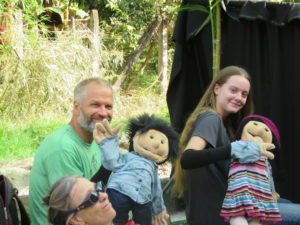 We have done multiple puppet shows at schools, and tomorrow night we will perform at a Buddhist temple complex. We brought 600 dental hygiene kits — each with a toothbrush, paste, and floss in a little bag, as well as 100s of notebooks, pencils, erasers, crayons, and coloring books that we will give away to the kids at the poorest schools. We received a lot of medical donations in the US that we carried in our suitcases (made it through customs no problem!) that we already delivered to an eye clinic and to the local hospital. Apparently Cambodia has more NGO's than any country in the world, but it still appears to be in desperate need of aid.
---
Aside from the job-site labor, our "work" also consists of doing load after load of work clothes laundry, prepping for school art projects & classes, puppet show rehearsals, boiling eggs (several times a week we bring 100 boiled eggs to local malnourished kids), and shopping. Shopping at the outdoor market is pretty mind blowing. Creeping, crawling things, and slimy, flopping fish and eel-type squirming things. Smack, slash, slash, scrape, scrape… the market ladies kill 'em, chop 'em up, and bag them for you. They also have unknown (to me) exotic fruits, as well as mangoes, papayas, dragon fruit, and small, fat sweet bananas! As it's sometimes difficult to communicate with the food sellers and shop owners, there is often a lot of laughter.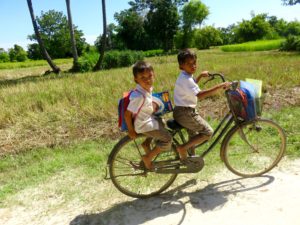 In general, people here seem delighted and amused to see and meet us, as they don't have many tourists in this area. Sometimes the kids just like to yell, "Hello!" when they see us because they get to say the one English word they know, and then we respond in Khmer, "Su-sdai!"
---
Wat Adventure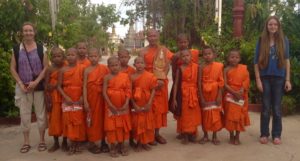 Each day we see monks walking through town with their saffron umbrellas and their begging bowls. Sometimes there are three together crossing a street, sometimes two, one on either side of the street standing, still as statues, facing the local shop, waiting for a donation to be deposited into their bowl. There's a very large pagoda (Wat) complex a few minutes from our house near the center of town. I asked Sam, a young man I'd met who spoke some English, if he could go with me to the Wat and inquire about us performing a puppet show there.
On the way there, I tried to explain a bit about the puppet show from the back of Sam's motorcycle. "It's fun, and silly," I yelled at the back of his head into the wind, "with animals and singing and guitar, to entertain the children and make them smile and laugh." He leaned back, turning slightly, "I think maybe this is not the right place for this show." Uh oh…! "Well," I said, "let's go and see what they say…"
Turning in to the large Wat complex, we eventually found the head monk. We stood in the searing heat while Sam translated and explained what we wanted to offer, then tried to translate and explain to me what the monk wanted to know — Did we want indoors or outdoors? And what time of day? And what if it's raining? We discussed various possibilities, then suddenly he asked, "Can you do it on the 25th at 7pm?" Apparently a big three-day festival culminates on the 25th with a celebration at every pagoda in the country. Maybe 150 people will attend the show, he said. Oh my!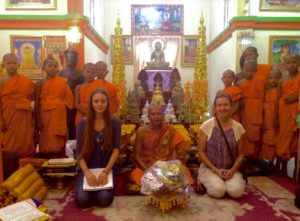 We walked over to a large plaza. Sam translated — the Square of 25 Bodhisattvas. Only about 12 of these large statues are as yet erected around the perimeter of the square. There is a lot of construction going on in the compound… We took off our shoes and climbed the few stairs to the square. The ground was hot and we stood again in the searing sun to discuss the celebration and our role in it. Three young monks were painting the foundation of one of the statues. Another approached us with four bottles of water on a tray and gave one each to Sam and me. I accepted gratefully. Will there be enough light, Sam and I wondered? Yes, it will be a full moon. Um, I don't think that's going to cut it! Any electricity? Oh yes, yes, there will be lights. We all exchanged name spellings and saved each other's numbers in our cell phones.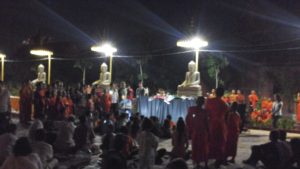 A few evenings later, we loaded up our two trucks with puppets, stage supplies, and ourselves, and put on a rousing show for the monks and the locals, clearly unlike anything ever seen before in the Takeo Wat complex, in the now completed Square of the 25 Bodhisattvas. Memorable indeed!
Before leaving Takeo, half a dozen of us took a refrigerator we had bought and used during our stay, various household items, and a bundle of dental hygiene kits to the Wat. We all held hands, with our other hand on one of the donated items, as Vaisne spoke a blessing on the gifts. He directed me and Dora to hand out the dental kits, one by one, to a line of young saffron-robbed youths. The Wat functions as a home and school for nearly 100 young "monks", many orphaned or with untenable family situations. I felt respect for and gratitude toward the monastic organization for having made food, clothing, shelter, and education available to so many children. Departing, however, I quite suddenly sensed the profound lack of a female's motherly smile, gesture, touch in these young boys' lives . . .