LOCAL SERVICE
The Food Fest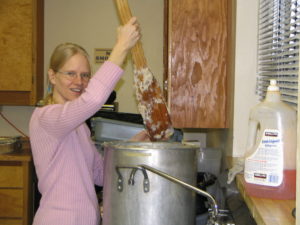 Five lbs. of cheese, 8 lbs. of beef and tofu, 10 lbs. of spinach, 520 oz. of sauce . . . That can only mean lasagna, a favorite of all diners at our periodic community dinner affectionately known as the Food Fest.
Twenty or more volunteers work together to provide this free meal for the community, usually serving 125+ people. The planning begins two weeks prior, with signing people up for various jobs such as food prep, shopping, cooking, making and distributing flyers, and serving the meals. A few people bring their guitar and keyboard skills to provide background music, adding to the welcoming feeling. Aside from the meal, a big favorite is the ice cream and brownies for dessert.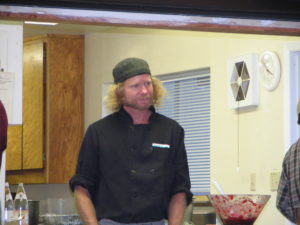 Everyone and anyone is welcome. Families with children, workers coming home from a day on the job, and senior citizens are particularly glad to come and have a warm meal, visit with friends, or meet new people and relax for a time. It feels so right to provide in this way. It's hard to know who gets more out of the gesture, the diners or us.
---
A Candle Light Dinner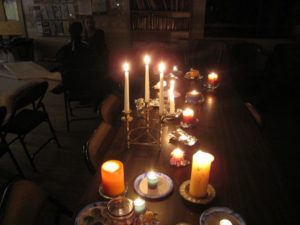 Then came Wednesday—cold and rainy, with blustery winds from the south most of the day. Food Fest night at the senior center . . . will anyone come out in this weather?! The Tuesday crew had done much of the food prep the day before, and fortunately, the multiple lasagnas finished cooking just before 4:30 p.m. when the power went out. We started calling friends and volunteers for candles, and soon 30 or more bright flames were burning on the tables and in the kitchen. Diners who arrived early joined us in getting all the candles lit and placed. We even managed to have soft music in the background—the electric keyboard and guitar powered by battery. How could anyone driving by resist the glow of candles burning in the windows and the delicious smell of warm Italian food beckoning passersby to come inside? They couldn't have known they would be stepping into another world for a time . . .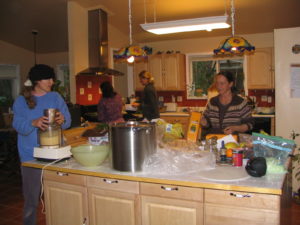 What a wonderful evening! A few times during the evening I paused to look around and really take in the scene. The "problems" of inclement weather and an electrical outage were an unexpected gift that helped create this beautiful scene. I felt uplifted and full — not just from lasagna!
---
Fall on Your Knees: Holiday Caroling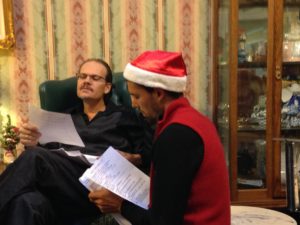 There seems to be something special about singing that brings people closer to each other—especially when the melodies are familiar ones and it's easy for all to join in. Every November, a number of us get togethe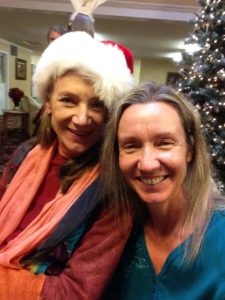 r and practice Christmas carols. We begin rehearsing, then make scheduling calls to half a dozen convalescent homes in Grass Valley, planning to spend a few hours at several different places each week.
After arriving, we usually start by singing to a group who are gathered in the dining room, or the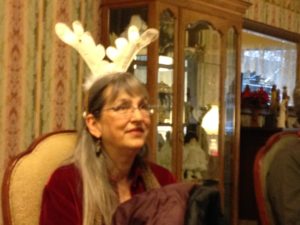 activities room, or the TV room. Often we then walk, singing, through the halls, stopping to do a few songs outside rooms where we are invited to sing for a private audience of one or two. It is remarkable to witness an aged person, whose physical and mental faculties appear to be extremely limited, light up and mouth the words to old favorites, like "Jingle Bells," and "Silent Night." Sometimes we attract a following, and residents join us on foot or in wheelchairs and make the rounds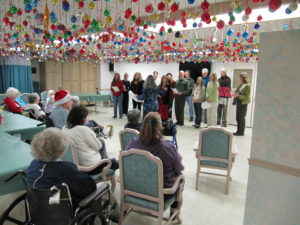 with us.
The nurses always appear very happy to see and hear us, and visitors who are spending time with an elderly family member are especially appreciative. I often think that if my own mother or father were there, how grateful I would be, knowing that these bright, smiling faces were offering them this warm cup of holiday cheer.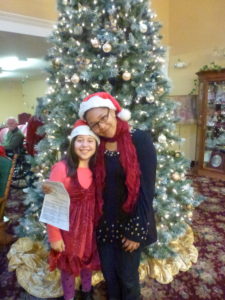 After singing, we spend time talking with the residents, some of whom recognize us from previous years' visits. It takes so little effort, really, to make a giving gesture toward another human. The beautiful simplicity of the music and the visiting offers a perfect opportunity for doing just that.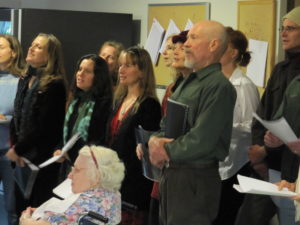 ---