MEXICO
Central Mexico & The Tarahumara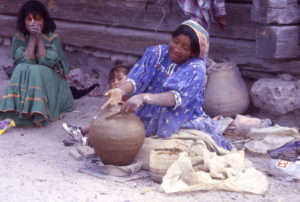 After some research and many emails and phone calls to Mexico, we made an arrangement to work with a Habitat for Humanity post in North Central Mexico. About 25 volunteers spent  various lengths over a 2-month period building with our Habitat hosts and plugging in to numerous projects, such as visiting kids in an orphanage, teaching art and English in local schools, and visiting folks in convalescent homes.
Perhaps the most exotic part of our trip was visiting the Tarahumara Indian village of Sisoguichi in the Sierra
Madre and camping in a nearby river gorge in the stunning Copper Canyon region. Camping on their land, we had daily contact with our Tarahumara neighbors, known throughout the world for their ability as long-distance runners. Sometimes the man who lived in the small hut closest to our tent would stop by at breakfast time and join us for granola and tea. He didn't speak Spanish, and we didn't speak Tarahumaran, but over the days we developed a friendship not based on talking. We in turn visited his modest home and met his family. Before our departure, we supplied his handicapped daughter with a wheelchair and distributed food bundles to the families who lived in the vicinity.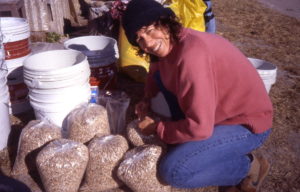 Early the next year, we happened on a news article saying that the Tarahumara Indians in the region we had visited were suffering from a prolonged drought and that the children were undernourished. We quickly collected funds and organized a crew of three that flew to El Paso, rented a minivan, purchased food, medicine, and blankets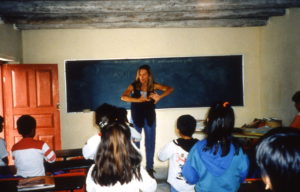 and drove to Sisoguichi to distribute the goods to the Tarahumara scattered in the surrounding villages. We continued to send a crew there twice a year for several years to distribute food, clothing, and blankets. While our material contributions helped alleviate a little of their hardship, perhaps equally important was the experience of individuals from two cultures, living in two very different worlds, speaking different languages and having very different lifestyles, coming together to share a moment of their humanity with each other.