Moroccan Moments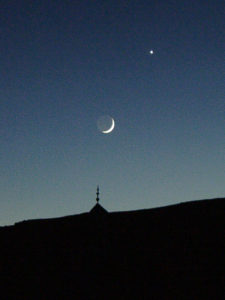 It is pretty clear that the more one puts into a trip, the more richness one is likely to get out of it. Before heading to Morocco, we focused on learning some of t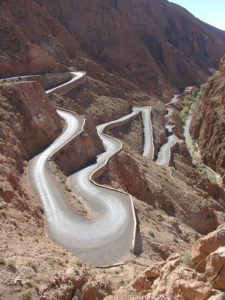 he local languages. Previous experience had given us ample evidence of the enormous advantage you have when you can speak the native tongue. Not only is it easier to ask directions, buy food, and make hotel reservations, but it of course means that you can get to know people better.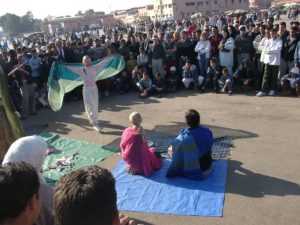 In choosing southern Morocco as our destination, we knew that we would potentially be interacting with speakers of Arabic, French, and Berber. As we had several French speaking volunteers, they began giving French lessons. As for Arabic and Berber, the two most linguistically inclined ordered language-learning tapes with accompanying texts, and within a couple weeks we had three separate language classes going, the Arabic and Berber teachers being only one step ahead of their students.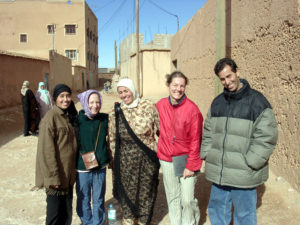 We'd also learned that living with locals can facilitate understanding of the people and their culture quite different from that gleaned as a tourists. Having the resources of 25 people to draw from, we discovered that one of us had a close friend who'd married a Moroccan, and this contact led to an invitation to stay with the man's family in Morocco.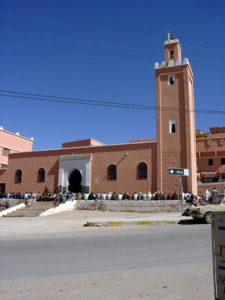 We spent a month in this family's abandoned kasbah (a dwelling made of packed earth that looks like a cross between a fortress and a castle), with the family living next door in the newer, modernized home. Our close living quarters provided countless opportunities for cultural exchange. Each of us lived through unforgettable scenes as we learned to bake Moroccan bread with the women, fasted and "break-fasted" with our hosts during the Muslim holy month of Ramadan, taught English classes to and played soccer with the local teenage boys.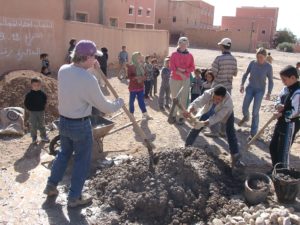 Perhaps the most important perspective we brought with us was the understanding that we wanted to give, in whatever form that might take. We wrote a simple play and rehearsed it both before we left home and as we traveled, and performed it as a gift to our hosts and the nearby elementary schools. We volunteered at the local boys' club in town, helped finance and build a community playground, and gave away warm hats and gloves as we passed through remote mountain villages.
After arriving in Marrakech, known for its celebrated square of Jemaa el-Fnaa, where musicians, acrobats, snake charmers, drummers, and performers of every kind have entertained audiences for hundreds of years, we borrowed guitars, warmed our vocal cords, and sang American folk and rock songs for a large crowd North African onlookers. As the time came to return home, we examined our belongings and left behind with our new friends the CD walkmans, sleeping pads, daypacks, and other items we could easily replace for ourselves in the US, but that would be difficult, or even impossible for the Moroccans we'd met to acquire on their own.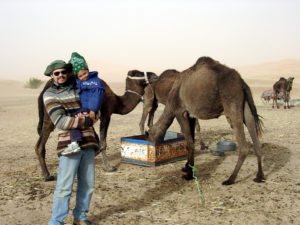 Our Moroccan expedition turned out to be an adventure that surpassed our highest expectations. Some of us rode camels through the dunes; others experienced the luxury of a hammam, the traditional bathhouse. We all experienced, along with the Moroccan faithful, something of Ramadan. In the end, an intricate and original tapestry emerged, woven with threads of warmth and friendship, exchange, daring and boldness, and much beauty. Not only did we return home more knowledgeable about and feeling more connected to a country and people halfway around the world, but having lived through so many extraordinary experiences together, it was clear we had grown closer to each other as well.